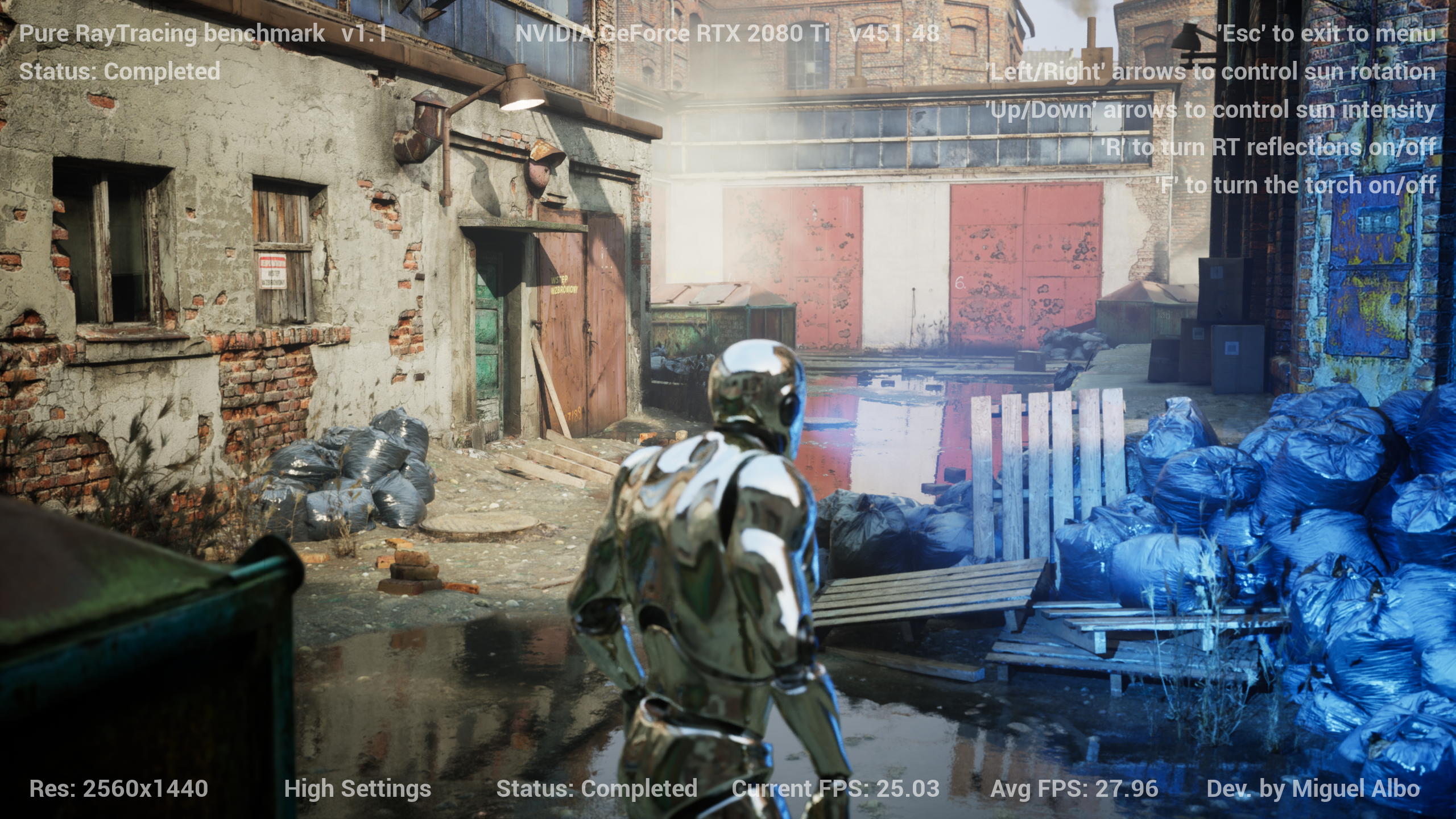 Pure RayTracing benchmark
A downloadable Benchmark for Windows
Download the compressed file, extract it, and execute the first '.exe' file. No installation needed!

A modern, free, easy and fast benchmark to measure how powerful is your Graphic Card (GPU), or to find your overclocked sweet spot. This is the 'twin' of the Pure non-RT benchmark (https://marvizer.itch.io/pure-non-rt-benchmark), but specially designed, this time, for RT capable/compatible cards.

(Both benchmarks are scheduled to be included in one unique software, in the near future, with update v2.0)
You will be able to select some options to pass the benchmark, or keep it running in loop. After it, you will be able to control a fully reflective third person character and to enable/disable his torch, change the sun rotation or brightness, and even enable/disable raytraced reflections all around the environment.
When exiting the benchmark, you will be able to review, again, your final result and, if you pass it a second time, when exiting after that, you will be able to compare the first result versus the second one, with a percentage calculation of improvement, ideal for overclocking comparisons.
Let's share the result with your community or in the comments below!
About the benchmark settings:
- Common Settings: usual gameplay settings on most games, when enabled all usual RT capabilities at a basic value each one. RT reflections ON, RT shadows ON, RT Ambient Occlusion OFF, Global Illumination OFF, RT Sky OFF

- High Settings: all usual settings of games + some additional settings, usually not available in most of games. RT reflections ON, RT shadows ON, RT Ambient Occlusion ON, Global Illumination ON, RT Sky OFF

- Pro Settings: designed for a professional use simulation, for people working and rendering in real-time, like automotive visualizations with a turning car, for example. RT reflections ON, RT shadows ON, RT Ambient Occlusion ON, Global Illumination ON, RT Sky ON
Ray Tracing features

Common Settings

High Settings

Pro Settings

RT Reflections
RT Shadows
RT Ambient Occlusion
RT Global Illumination
RT Sky
ON
ON
OFF
OFF
OFF

ON
ON
ON
ON
OFF

ON
ON
ON
ON
ON

Minimum requirements: Nvidia RT compatible GPU (from Pascal) with drivers 425.31 or higher, Windows 10 v1809 or higher. AMD or non-RT capables will show a warning message and execute the benchmark without RT features ('raster' mode).
Internet connection required (to be able to add some great options in an upcoming awesome v2.0 of the benchmark).

Updated scores:
FHD Usual Settings:
2080 Ti Asus Rog Strix (+100, +900)
2080 Ti Asus Rog Strix
2080 Super
2080 mobile
2070
2070
2060 Super
2060 Super
1080 Ti
1080 Ti
1660 Ti
1660
1080
1060 6GB


68
62
52.5
41.5
41.5
40
38
36.5
15
14.5
13.5
11.5
10
5.5

FHD High Settings:
2080 Ti Asus Rog Strix (+100, +900)
2080 mobile
2070
2060 Super

46.5
28.5
28.5
25

FHD Pro Settings:
3090 Palit GamerPro OC
2080 Ti (@2000/7700)
2080 Ti
2070 Super Asus Dual Evo
2080 mobile
2070
2070 Ventus OC
2060 Super

57
38.5
33.5
25
22
21.5
21
18.5

QHD Usual Settings:
3090 MSI Gaming X Trio
3090 KFA2 SG
3080 Asus TUF
2080 Ti Asus Rog Strix (+100, +900)
2080 Ti MSI SeaHawk X
RX 6800 XT
2080 Ti Asus Rog Strix
RX 6800 XT
2080 Super
2080
2080
2070 Super
2080 mobile
2070
2070
1660
1080 Ti
1060 6GB


67
62.5
56
41.5
41
40
38
35.5
33
29.5
29
27
25
25
24
11
9
3

QHD High Settings:
2080 Ti Asus Rog Strix
RX 6800 XT
2080
2080 mobile
1660


25.5
25.5
20
17
7.5

QHD Pro Settings:
3090 Palit GamerPro OC
3080 Asus TUF
3080 MSI Ventus 3X OC
3080 MSI Ventus 3X OC
2080 Ti (@2070/8300)
2080 Ti (@2000/7700)
2080 Ti MSI SeaHawk X
2080 Ti Windforce OC
2080 Ti Gaming X Trio
2080 Ti Asus Rog Strix
RX 6800 XT
2080 Gigabyte Gaming OC (@1950/7700)
2080 Super EVGA
2080
2070 Super Asus Dual Evo
2070 Ventus OC
1660
1080 Ti (@2025/6003)


34.5
30.5
29.5
28.5
24
23
21.5
21.5
20.5
20
17.5
17.5
16
15.5
15
12.5
4.5
3

4K Usual Settings:
2080 Ti Asus Rog Strix
2080
1080


18
13
3

4K High Settings:
2080 Ti Asus Rog Strix
2080


11.5
9

4K Pro Settings:
3090 MSI Gaming X Trio
3090 Palit GamerPro OC
3090 KFA2 SG
3080 MSI Ventus 3X OC (OC)
3080 MSI Ventus 3X OC
2080 Ti (@2070/8300)
2080 Ti (@2000/7700)
2080 Ti Gaming X Trio
2080 Ti Asus Rog Strix
2080 Super EVGA
2080
2070 Super Asus Dual Evo
2080 mobile
2070
2070 Ventus OC


17
16.5
16
14.5
13.5
11.5
10.5
9.5
9.5
7.5
7.5
7
6
5.5
5.5

Download
Click download now to get access to the following files:
Pure RayTracing benchmark v1.5.zip
2 GB